While design projects can seem overwhelming and chaotic, by taking the time to frame and articulate the challenge, you can provide useful clarity and direction. A well-articulated challenge will increase your probability of project success. Like it or not, the ability to frame a design challenge impacts your team's ability to deliver a successful project. As the quality of an answer lies in the quality of the question, the quality of a design project rests on the quality of the design challenge. Framing your challenge is your opportunity to get your project started on the right foot and set the tone for successful delivery. This post contains tips you can use to improve your design outcomes.
Our Point of View
If companies are going to leverage the potential of design thinking, it is critical to understand and articulate the design challenge to frame your project. A good design challenge avoids a bias towards a solution or technology while setting up the project for success. Be intentional about setting and understanding your design challenge.
Be Intentional: Setting the Frame
I agree with Jared Spool that "design is the rendering of intent." Additionally, I believe design must be intentional. To that end, my intent at this first phase of the design process is to frame the opportunity in terms of business goals and user needs — doing our best to avoid talking about potential solutions or technical fixes. Setting a frame that is free of solution and technology bias is critical.
Here are the five main objectives for framing a great design challenge:
Define business goals
Recognize user needs
Identify data to support challenge
Avoid solutioning and a technology bias
Articulate the challenge to stakeholders and teammates
Good Designs Starts with a Good Design Challenge
Set the tone of the entire design process by focusing on the essential. From the start, it's imperative to identify and outline the goals to avoid scope creep and rework. Frame your design challenge by asking the following questions:
What are the business goals?
What are the user needs?
What data do I already have to support the challenge?
Who needs to be included in the challenge?
In addition to the research objectives, we advise teams to avoid "solutioning" at this phase. Work to avoid a bias for a solution or a technology at this critical juncture of the design process.
To avoid solutioning, talk in terms of a problem to be solved. Leverage existing data that's available. Discuss how the symptoms of the problem present themselves? Utilize past research and performance data to help understand the problem.
Good Design Creates & Captures Value
The life of your business depends on its ability to create and capture value. Your organization must present something of value that it can exchange with the market. In turn, your organization must be intentional about capturing value. Your design work needs to address how the whole system creates, delivers, and captures value.
The design target maximizes the space of business goals and customer needs.
The Challenge Phase sets the tone for the design project, so take the time and energy to be intentional. Set project direction by defining and balancing customer/user needs, business and project goals. Much like Sprint 0 in Agile projects, this critical first phase is often glossed over or skipped altogether. Some may argue that they are skipping for speed, but my experiences tell me that time and resources saved are lost in rework later in the process or the design missing the target with the market – unable to create or capture value.
"Design Is How It Works"
When we say design, we are talking about how the whole thing works, not just how something looks. Design strives to maximize the space between business goals and customer needs. In the Venn diagram, your design target is the area of overlap where the empathetic solution is presented competently by the business to the customer. Empathy helps us understand the users and recognize their needs. However, if the business does not do this competently (look like a trusted solution, believable, etc.) it will not resonate with the customer.
"Most people make the mistake of thinking design is what it looks like. People think it's this veneer – that the designers are handed this box and told, 'Make it look good!' That's not what we think design is. It's not just what it looks like and feels like. Design is how it works." – Steve Jobs
Hitting your design targets starts with committing to the Challenge Phase. During the Challenge Phase, it is important to avoid assumptions. Work to state only what is known to be true and avoid a bias for a solution or a technology. Be willing to adjust the level of zoom or your aperture at this stage of the process. Explore your understanding of customer needs.
A few things to ensure you're focusing on customer needs are:
Use past research efforts and customer data to help support new objectives
Listen to customer support calls
Develop a research plan to validate any untested assumptions - have a plan to move from assumption to fact
Get out of the building to observe and talk with customers
Avoid a Solution and Technology Bias
It's easy and dangerous to fall in love with the solution, which can limit your long-term success by making you blind to future options. In the Challenge Phase, it is imperative to understand, articulate, and love the problem. When you're in love with the solution, too much energy is spent trying to protect the solution. When you love the problem, you work to address it from many perspectives.
Before you apply technology, understand what you are trying to accomplish. Technology should enable, rather than drive. Sometimes the bias for solution and technology are combined early in a project. Those sentences start out with "we just need to…". Many social media projects started in organizations with "we just need a blog" or "we just need a twitter account.". The solution and tech bias were baked right into the project charge.
A helpful point from the Google Sprint method is knowing the design team works to balance an understanding of the long-term goal with the immediate challenge. A healthy tension between these two vantage points will help the design team be open to understanding the problem and the context before jumping to a solution.
Articulate the Challenge and Tell the Story
Now that you've been diligent and intentional; collaborating to define business goals, recognizing user needs, identifying data you will need, and avoiding a bias for solution or technology, you have to share this information with stakeholders and extended teams. You have to tell the story. As humans, we best understand the world around us in terms of stories. Use the power of narrative to articulate and share the challenge as a story. Good stories involve a character, a goal, and context. Similarly, so does goal-based design. Work to frame and tell your story in terms of the user, their goal, and the context in which you can help them accomplish the goal, so that your organization can create and capture value.
Key Takeaways
Define and clarify business goals
Recognize and articulate user needs
Identify key data to support challenge
Avoid solutioning
Avoid technology bias
Tell the story
Handrail UX Guide
If you'd like help mapping out your design process, download a copy of our UX Guide to use as inspiration.
About Handrail
We built Handrail to help teams collaborate thought the design research process and to promote better design through human understanding. You can use Handrail to help your team to collaborate on your next design project. Sign up for a free 30-day trial today.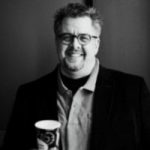 Matt Arnold
Matt is a researcher and product specialist at Handrail, Inc. He is passionate about human-centered design and helping teams do more effective research. Matt has led strategy and design work for early and late stage startups, as well as some of the country's most recognized brands.