UX Research Repository
Give your entire organization access to insights.
Plan, collect, analyze, and share user research in a centralized, searchable repository.
We are excited to announce that Doug Powell, Vice President of Design at IBM, has joined Handrail's Board of Directors.
How does Handrail help your organization succeed with research at scale?
Centralize
research &
insights
Our research repository provides easy access to essential insights for everyone in your organization, all in one place.
Build
collective
knowledge
Make connections and extract further insights by looking out across the research that's already out there.
Streamline
workflows
Stop duplicating studies that have already been done. Do more valuable research and do it faster.
Search
across your
organization
Find insights you can trust with visibility into the what and why behind the research.
Make
better
decisions
Get the evidence-based answers you need to inform product and strategy decisions when you need them.
Create
consistency &
continuity
Reduce time to find research with consistent documentation and speed up onboarding of new team members.
How Handrail's hybrid approach is different
Collaborative workflows
+
Centralized access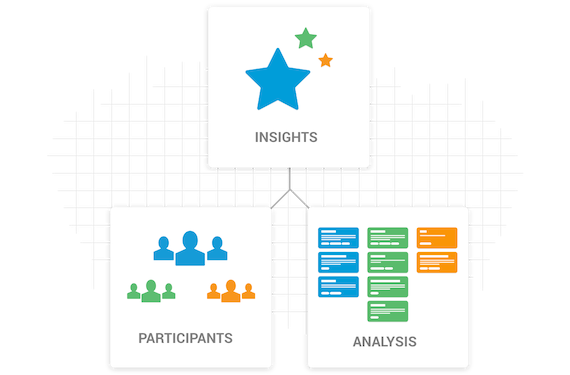 Handrail combines powerful, collaborative workflows for consistent and repeatable execution of user research with a research repository that streamlines management of research and insights across your organization.
Doing research in Handrail automatically results in "deep data", rich behavioral insights that stay linked to their evidence and the participants involved.
We can help bring Handrail into your organization
Pilot Program
60 or 90 day period
Training and support
Onboarding assistance
Training + Support
Training in user research best practices
Regular "office hours" for team members to ask questions and get direct support
Onboarding
Assistance bringing your existing research into Handrail
Admin training and assistance integrating Handrail into existing research-ops processes in your organization